Yitzhak Laor is a poet, novelist, essayist and literary critic. He was born in 1948 in the village of Pardes Hannah and moved with his family to Ramat Gan, at the age of 15. Between 1966 and 1969, he served in the IDF, completed his military duty and went on to study literature and theater at Tel Aviv University (1971-1974). At the university, he became active in SIAH, New Israeli Left. As part of the struggle against the occupation, Laor refused to go to reserve military service in the occupied territories. He was sentenced and went to jail, hoping to encourage more reserve soldiers to refuse. Since then, Laor's name has been associated with numerous political controversies. During those years, his first poems were published in literary reviews and periodicals. His main energies were, however, invested in political activism. Together with his friends on the left, he joined in 1977 the Democratic Front for Peace and Equality, Hadash.Laor's first book was Outside the Fence (1981), a collection of short stories dominated by poignant, even extreme, irony. The book received numerous reviews, a striking number for an author's first book. An abundance of critiques and interviews would since become characteristic of Laor's book publications. The critical reception has at times been hostile –this is especially true of the political poetry – and at times highly laudatory. In March 1982, Laor's first poetry book, 'Going away', was published.During the early 1980s, Laor studied for his M.A. degree in theater. His thesis – English Melodrama in the Early 19th Century: A Genre for Mass Consumption – was awarded High Distinction. During the same period Laor delved again into radical political activism and was a key player in establishing the Committee for Solidarity with Bir Zeit University. In 1982, with the outbreak of the Lebanon War, he was among the first and most active protestors against the war.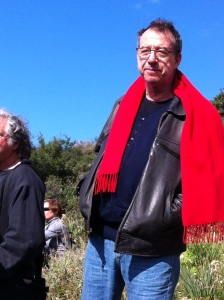 The Lebanon War was more than a mere arena for political activism. Laor's leftwing worldview was shattered when Israel's Zionist Left supported the war in its early weeks, despite its own condemnation prior to the actual invasion. These years evinced a landmark in Laor's art. His political poems, which were published during the war, caused havoc. Subsequent poems, published in literary periodicals as well as in an anthology of anti-war poetry, brought on aggressive responses that persisted for longer than a year (1983-1984), with attacks not only on his art but also on his person.
Laor's divorce and prolonged struggle against the war were found expression in his next book Only the Body Remembers (1985), published during Israel's withdrawal from Lebanon. Public exhaustion from politics and the strain of extreme inflation did not provide fertile ground for this aggressive book. Laor's insistence on including his political poems alongside lyrical poetry resulted in his parting ways with his publisher, Hakibbutz Hameuhad. The work's expressive, sexual, and political poetics met with reluctance. The book was, nevertheless, successful and in the course of the following years, proved to be highly influential on the direction of contemporary Hebrew poetry.
Parallel to these publications, Laor's play Ephraim Returns to the Army, which had its rights purchased by the Haifa Theatre, was banned by the state censor. Eventually, following a legal process, the Supreme Court obviated the Censor's decision (1987), and as a consequence, the censorship on theatre was abolished a year later. Laor ended up victorious yet outside the world of theater, deemed "too extreme for us."
In the following few years, Laor reached an impasse. He made his living from night news editing and did not write. The 1990s were, however, a turning point. Critical acclaim for his new book, Poems in the Valley of Iron (1990) the Prime Minister's Award (which then Prime Minister Yitzhak Shamir refused to sign) and a writing grant to Oxford, paved the way for a quieter, more prolific life. In 1992, A Night in a Foreign Hotel was published in four editions, granting Laor the Bernstein Prize. In 1993, he published his first major novel, The People, Food Fit for a King. The novel became a landmark in the articulation of author/reader relations in Hebrew literature and won The Award for Israeli literature.
The following years were as fruitful. Parallel to The People, Food Fit for a King, Laor wrote a series of critical essays on contemporary Hebrew literature. These poignant political essays, informed by postcolonial literary theory, were collected in his Narratives with No Natives (1995), the first volume to present thoroughly critical analyses of Israel's literature. Following closely in the footsteps of academic "New Historians', Laor was providing a new assessment, outside academia, of Amos Oz, A. B. Yehoshua, Yehoshua Knaz, S, Yizhar, and Meir Wieseltier.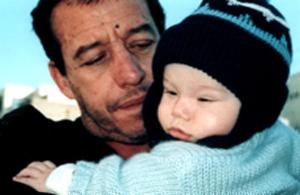 In 1995, Yitzhak and his wife Alina welcomed their son, Yoseph. Yoseph's birth became a formative moment in Laor's writing. His subsequent poetry book, And Loveth Many Days (1996) captured this singular moment. The next novel, And with My Sprit, My Corpse' (1998; translated into German in 2003), with its multiplicity of subjects and remote echoes of the Lebanon War, also resonated with the quest to protect the newborn child. This book, too, received enthusiastic responses, though it proved a complete commercial failure. Laor's disappointment was evident in his subsequent poems. His poetry book, Poems (1999) was a real success, sold a few editions, but by then Laor was completely immersed in his next novel, which was to be published well into the second Intifadah, when Laor himself was again far outside the political consensus of the time. His livelihood (as of March 1998) was now based on weekly writing in Haaretz's weekly literary supplement. His plan to go back to the university as a faculty member reflected his financial insecurity. Thus, while his successful novel, Ecce Homo (2002, translated into German in 2005) was published, Laor was busy writing a Ph.D. dissertation on the work of his friend, the Israeli playwright, Hanoch Levin, and graduated, again, with High Distinction (Hanoch Levin Comedy: Fetishism as a Theatrical Mode of existence) . For a few years, he was teaching as faculty at the Tel Aviv University.
His book, Early Stories (2000) (a collection of stories from Outside the Fence as well as unpublished pieces and his essay collection Things That Are Better (Not) Kept Silent' (2002) was followed by Leviathan City (2004), which [granted] garnered Laor the Yehuda Amichai Prize. The latter collection consisted entirely of political poems and reflected the second Intifada. But Laor was running out of time. His temporary university position came to an end. Laor left the university disappointed and founded Mitaam, a review of literary and radical thought. For seven years, from 2004 to the end of 2011, a new issue was published every three months, 28 issues of essays, translated and original poetry, contemporary Palestinian poetry as well as prose. Mitaam has never applied for, nor received any public financial support. During the same seven years, Laor published another collection of short stories, As Much As You Give Me (2006), and two poetry books, Let My Son Stand Up (2007) and The Herd Book (2012). In 2013, his first novel, The People, Food Fit for a King, was republished. In late 2014, his fourth novel, An Everlasting Love was published. Laor won the 2014 Landau Prize for Poetry. The Prize stirred up a big scandal, and rumors that had surrounded Laor since 2010 were flared up, turning into unfounded claims about "rape" that supposedly had taken place 30 years ago, 'harassment' and 'rudeness'. The rumors were not substantiated and never led to any charges, nor to an investigation or judicial process. They remained a Facebook "shaming" campaign." Nevertheless, General (res.) Dayan, the ultra right-winghead of the Landau Prize organization, decided to prevent Laor from receiving the prize. The matter is currently under litigation. Laor has kept his Haaretz position past retirement age. His forthcoming books will include a new poetry book, a major poetry collection edited by Dan Miron, and an essay collection. Laor's novel Ecce Homo, his most political one, was translated into English yet is still waiting for a publisher. A book of essays on his oeuvre, edited by Ariel Hirschfeld and Sigal Naor Perlman, was published by Hakibbuth Hameuchad.